Robert Sheckley comes to Italy. For more than two months we move around Italy and Europe: Rome, Genoa, Naples, Milan, Lyon, München, Budapest, Bucharest, Plovdiv, meeting a lot of people. On the road, Ian Watson, Max and Peter join us. That's pure Quality Time!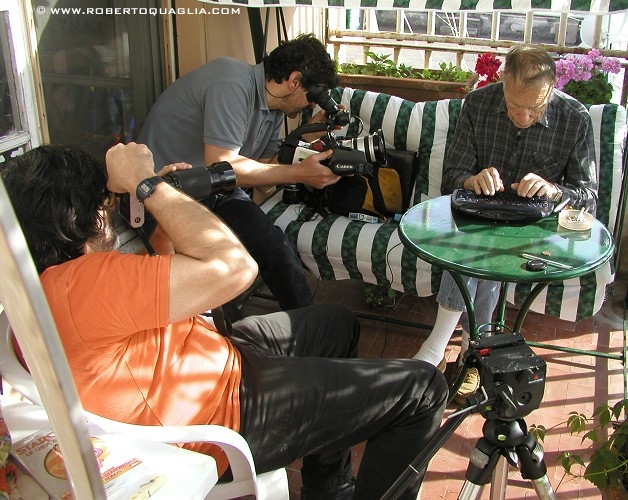 May 2004, Rome, Candido Torchio and Gerardo Gerardi putting Robert Sheckley on tape
In Silvio Sosio's home, Robert Sheckley is putting on a sandal. (Milan, June 2004)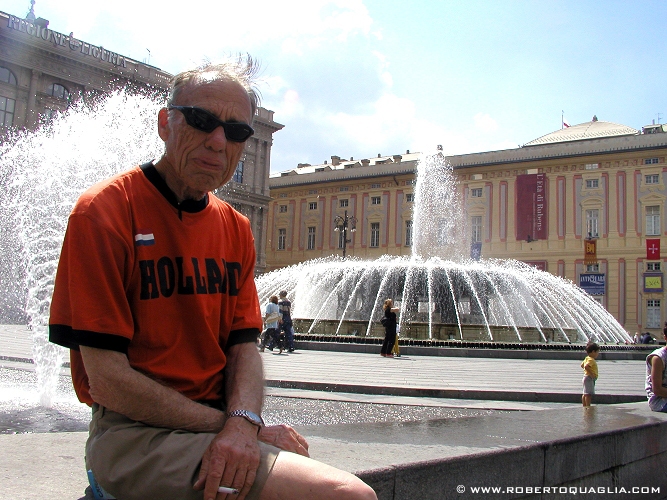 June 2004, Genoa. Robert Sheckley in front of the piazza De Ferrari fountain
June 2004, Genoa. Robert Sheckley
watches the "Palio Marinaro delle 5 repubbliche" parade
June 2004, Naples.
Sergei Slussarenko and Robert Sheckley on the "funicolare".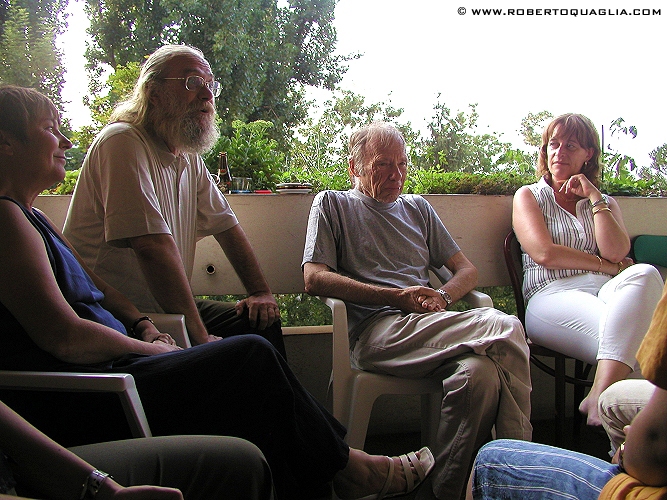 July 2004, Lyon. Patric Duvic, Robert Sheckley and Sylvie Laine, at Sylvie´s home.
July 2004, Budapest. Zsuzsa Toth, just about to win the Virgil Award
Budapest. At Kevin Twelve´s home. Laszlo, Sandor, Bob, Ian, Roberto, Max, Atta + more
August 2004, Bucharest: Ian Watson over Calea Unirii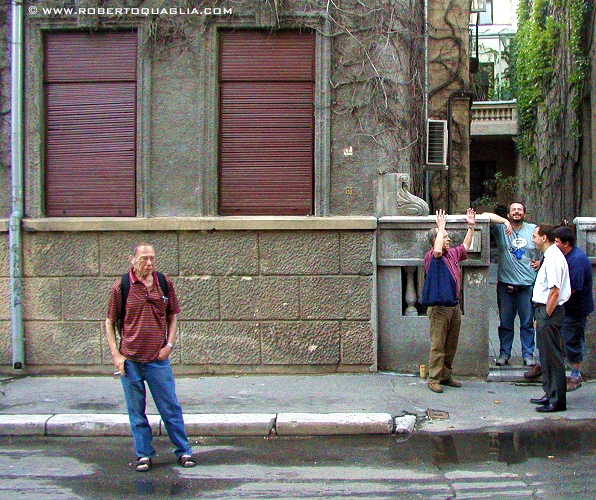 Bucharest: Sheckley, Watson, Max and Cristian Carstoiu in front of Amaltea
Alexandru Mironov, Quaglia, Sheckley and Watson during the talkshow (August 2004, Bucharest)
August 2004, Bucharest. After the talkshow: Quaglia, Mironov, Grosu, Sheckley and Watson
Bucharest: Peter, Ian, Max, Andi Caragea, Roberto, Robert drinking beer at Trafic, in Piata Alba Iulia
August 2004, Bjala, Bulgaria. A stop for Robert and Ian on the way to Plovdiv.